Last Updated on 13/10/2022
Vorarlberg is a very mountainous region, where even the highways mostly run in tunnels, and there are several toll sections with fees independent of a general Austrian vignette. The main attractions are mountains, entertainment – they are the same. There are many cable cars (I will not list everything), rope parks are relatively common, but other entertainment infrastructure is spreading slowly in this region. It is designed more for hiking and extreme sports (especially rock climbing).
Maps around:
West – Lake Constance
North – Allgäu
East – Inn valley attractions on the map – from Innsbruck to Kufstein
Everything important that you can see in the region – with notes and links.
1 – top
2 – very good, although not so well known
3 – good for a short vacation or a layover. Several medium-level interesting places
4 – local or specific, not for everyone
Marks with brackets – I was there (there are links to the posts). Without – I wasn't there. Of course, the notes are subjective
By searching, keep in mind that Austrians usually refer Kletterwald (rope park) as Kletterpark or Hochseilgarten, and Klettergarten are rock areas for training climbers and there are a lot of these areas. The number of attractions increases towards Innsbruck.
Note the desire of the Austrian authorities to restrict transit traffic through Tyrol in Italy. There is a decision to close some of the highways exits and the intention to introduce new paid sections. And in general, who cares about nerves, it is advisable to avoid Fernpass and the Brenner Highway on weekends in the summer.
3-4
1. Bregenz, Dornbirn, Hohenems
Lake Constance map.
1. Lake Überlingen
2. Konstanz
Island Mainau
Meersburg
Lindau
Austrian coast and children's program
Sankt-Gallen
Bregenz
Cable car (link). The view at the upper station is not very good, the mountain is more for hiking. Above there is a small paddock with alpine animals and birds of prey.
Old town (on the hill – Oberstadt Bregenz). Museum of the region.
Dornbirn
Rolls Royce Museum (link), iNatura multimedia nature museum, brewery museum.
Cable car (link). Gorge Rappenlochschlucht (link)
Hohenems – old town, the mill with museum (link).
(4)
2. "Bregenz Forest"
Hittisau, Bezau, Mellau
Some cable cars (link, link). Steam train Bezau – Schwarzenberg (link).
Bad Reuthe – thermal pool
(4)
3. Schoppernau, Schröcken
Schoppernau – cable car
Schröcken – cable car, rope park
Mittelberg – it makes sense to consider it together with Oberstdorf, since the normal road only goes from Germany. The main attraction is the cable cars (link, link)
Attractions in the Allgäu in general and Oberstdorf in particular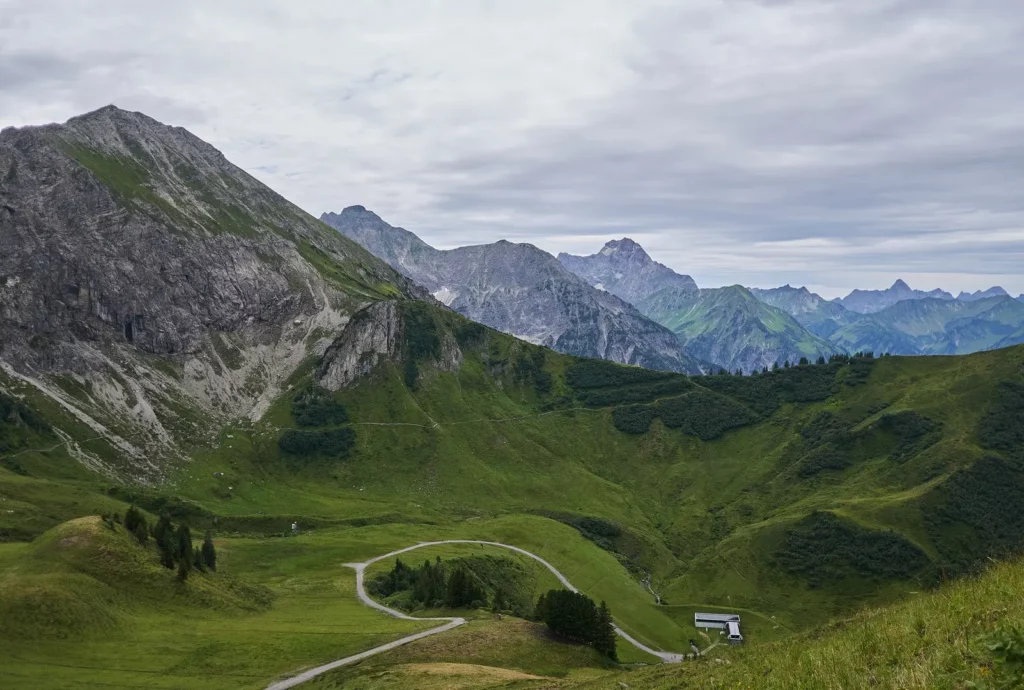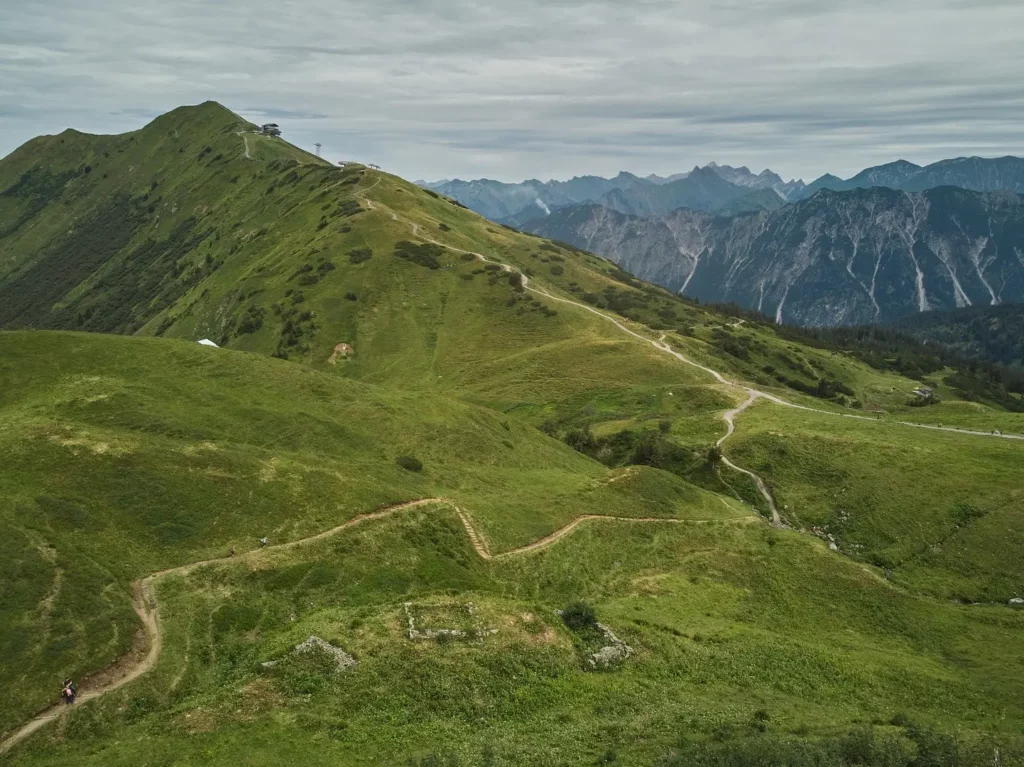 (4)
4. Fontanella, Damüls
Cable cars (link, link). Rope park.
(3-4)
5. Feldkirch
Old city. Castle Museum (link). Wildpark (link).
Laterns – summer toboggan, cable car (link)
Nearby Liechtenstein:
Vaduz – castle (outside only), museums (link, Museum of the Post Office, Treasury, Museum of the Region), the old bridge over the Rhine.
Balzers – restored at the beginning 20th century from the ruins Burg Gutenberg (link)
Mauren – history museum and bird park (link)
Forst – rope park
Malbun – chair lift, birds of prey, small zoo
(3)
6. Bludenz, Vandans, Schruns
Some cable cars along the gorge (link, link)
Bludenz – thermal pool, old town, brewery museum (link).
Brand – rope park
Golm – coaster, rope park
Schruns – pool
(4)
7. St. Anton am Arlberg
Cable car (link)
Verwall – rope park
Pettneu – thermal pool
(4)
8. Ischgl and around
Cable cars (link). Flying Fox (link). Suspension bridge. Thermal pool
Do you have any more questions? Use comments ⇓ or private communication form ⇨
(3)
9. Ried, Pfunds, Nauders, Kautertal
Ried, Serfaus – two cable cars (link), coaster, roman bridge on the old road, 2 rope parks. Waterfall Fallender Bach
Kautertal – side gorge, panoramic road, at the end of the cable car to the glacier
Pfunds – customs fortress Altfinstermünz (link), small history museum, mill
Nauders – cable car, castle (link)
Switzerland nearby:
Samnaun – cable cars (link), Flying Fox, thermal pool
Zernez – cable cars (link), Tarasp Castle (link)
Italy nearby:
Reschenpass – lake
Malles Venosta – Benedictine abbey Abbazia di Monte Maria with museum (link)
Sluderno – Castel Coira (Churburg, link) medieval castle that has never been destroyed, with the largest collection of armor in the world
(4)
10. Landeck, Zams
Landeck – a small old town, a castle with a museum.
Zams – cable car, gorge, coaster (link)
(4)
11. Lechtal
Cycling road along Lech.
Austrian wood carving school
Holzgau – suspension bridge
Elbigenalp – cable car, coaster (link)
3
12. Reutte
Cycling road along Lech.
Ruins of the Ehrenberg fortress (13th century, link), Fortress Schlosskopf (18th century) and Fort Claudia (17th century) – are located on the neighboring hills, two of the three fortresses are connected by the longest suspension bridge. Knights Museum.
Thermal pool
Read about Reutte castles here.
Plansee – boating
Tannheimertal – lake, rope park, cable cars (link)
Vitalpsee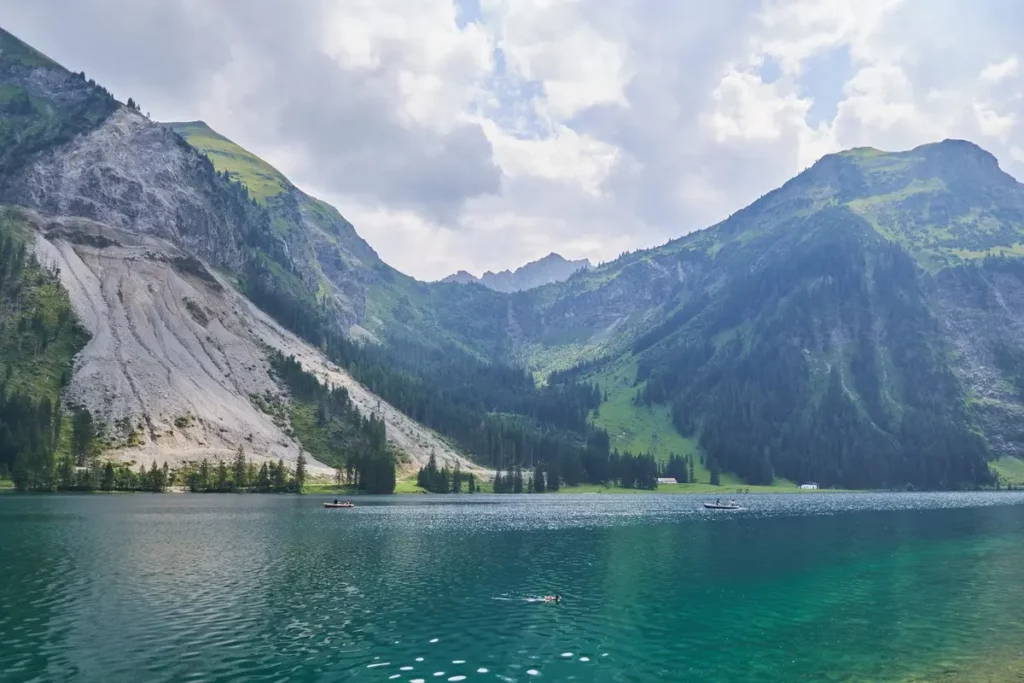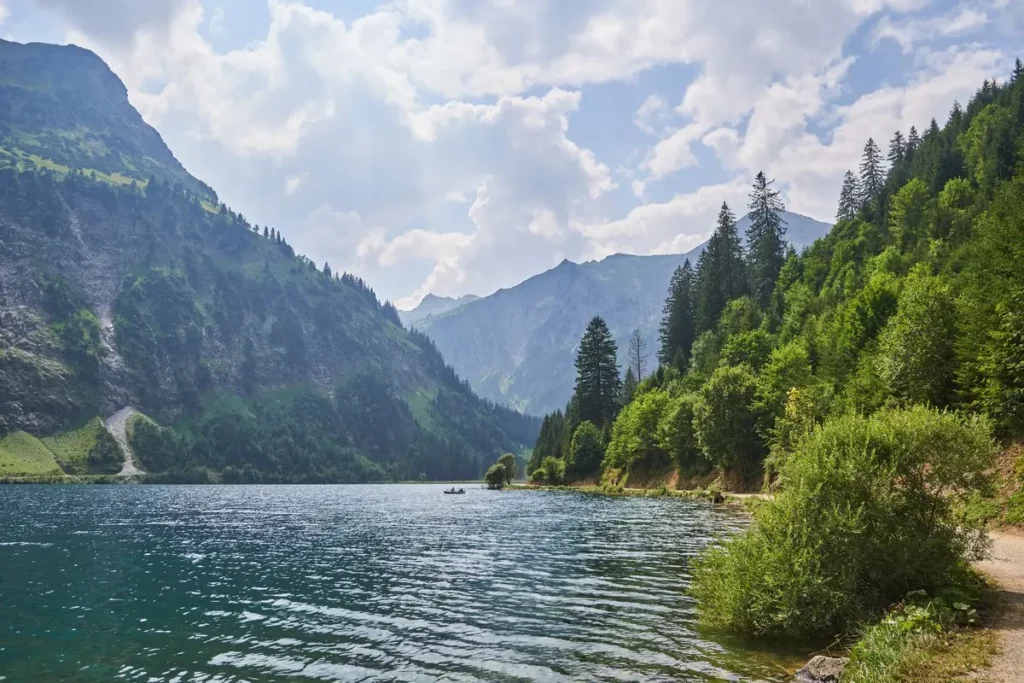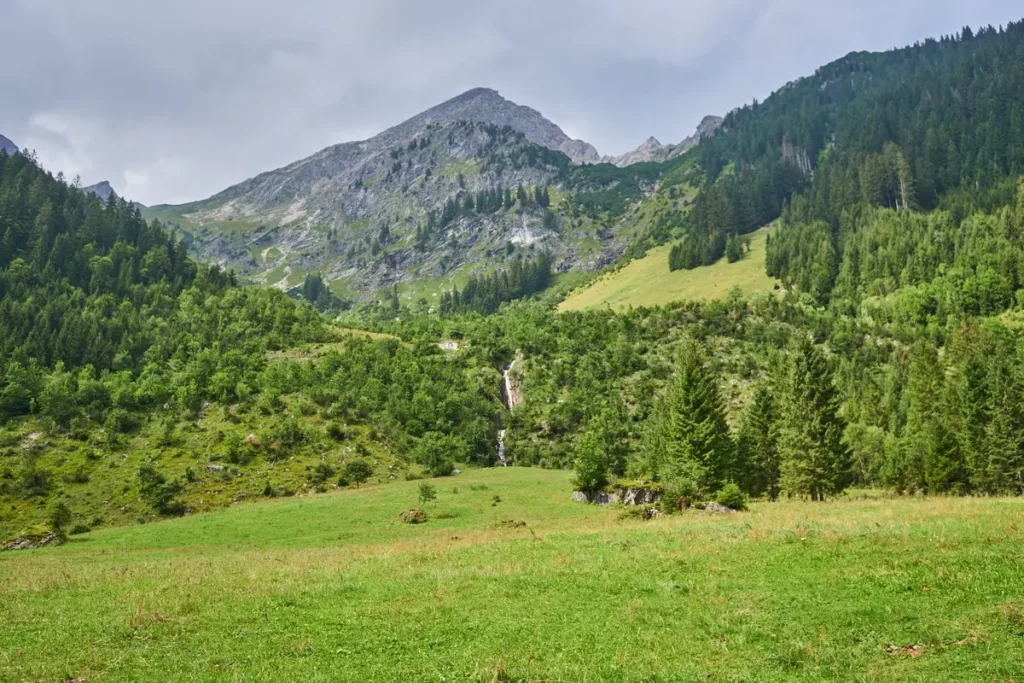 3
13. Ehrwald, Biberwier, Lermoos
Read about Zugspitze and Garmisch-Partenkirchen.
Cable cars in Ehrwald (on the Zugspitze, link) and in Lermoos (link). Small zoo and fun for children, rope park (Bichlbach), summer toboggan (Biberwier)
Lakes near the Fernpass: Blindsee and Weißensee on the north side of the pass, Lake Fernsteinsee – behind the pass.
Read about region Zugspitze Arena:
Part 1 Ehrwald, Lermoos, Bichlbach,
Part 2 Lakes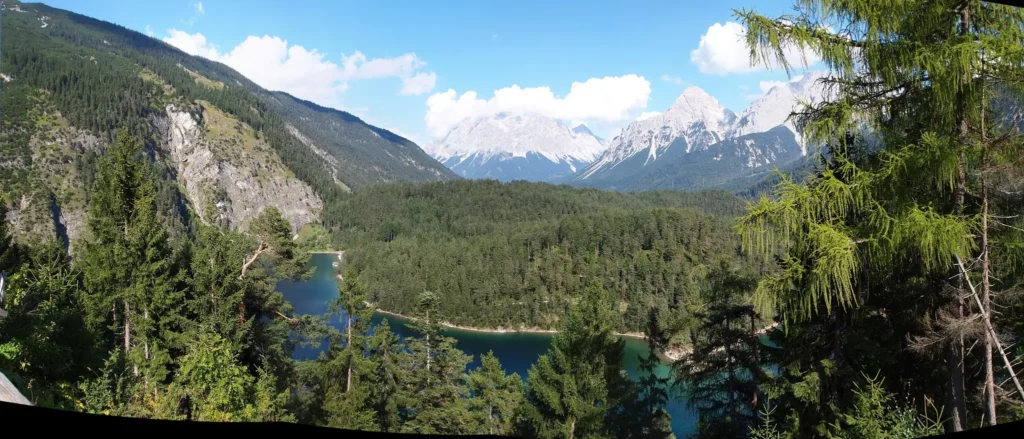 (4)
14. Imst
Between Nassereith and Imst – brewery with 200 years of history Schloss Starkenberg.
Imst – Gorge Rosengartenschlucht from the center of Imst to Imst Hoch, cable car and coaster (link).
Tarrenz – Knappenwelt Gurgltal (an open-air museum dedicated to mining, link)
(3-4)
15. Pinztal
Several cable cars, including the glacier (link). Several waterfalls. Alpine lake. Rope park.
2 (for waterfall, for the rest – 3)
16. Ötztal
More about Ötztal and Stuibenfall Waterfall
Ötz – cable car, forest lake, picturesque bridge across the river.
Umhausen – Waterfall Stuibenfall, prehistoric man Ötzi village, bird of prey show (link)
Längenfeld – thermal pool Aqua Dome. Museum of Local History. Museum of woodcarvers. Suspension bridge. Large Playground Fun Park.
Sölden – 3 cable cars, one chairlift and one funicular (link).
Suspension bridge.
Panoramic road Gletscherstrasse Sölden (2800 m). You can take a bus along the road (www.oetztaler.at).
Vent – Cave of prehistoric people 7600 BC, place where Ötzi was found, chairlift, suspension bridge.
Obergurgl, Hochgurgl – two cable cars (link). Panoramic road Timmelsjoch. You can take a bus along the road(www.oetztaler.at). Motorcycle Museum.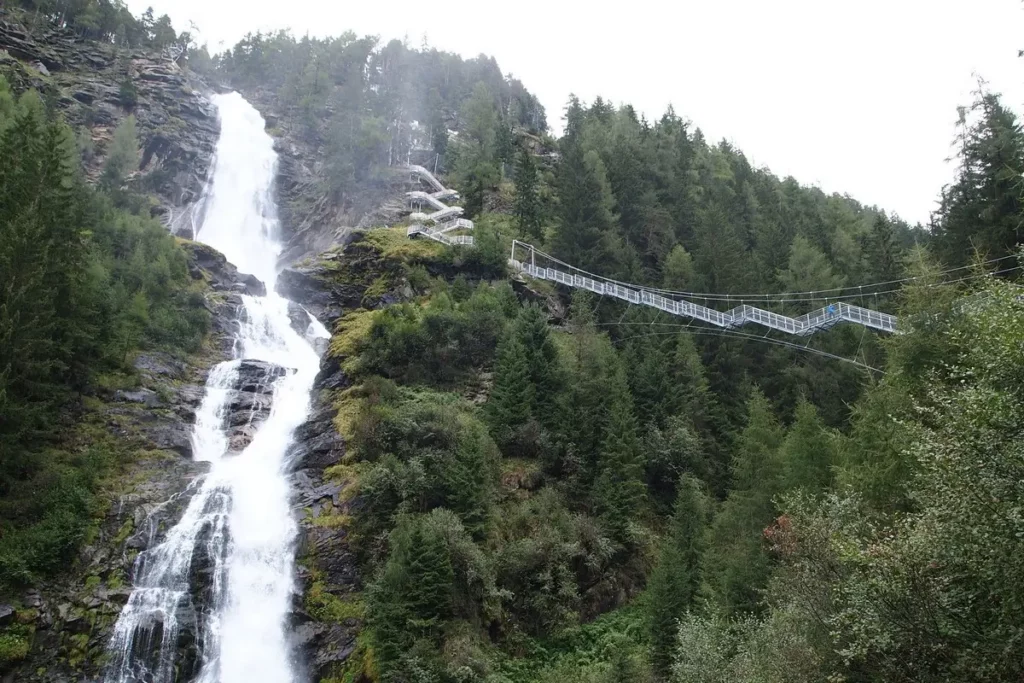 (4)
17. Along Inn
Local towns and villages offer walks or climbs in the local mountains. There are several castles, but all of them are viewed only from the outside.
Pfaffenhofen – a city with a small historical center
Stams – big monastery Stift Stams with museum (link).
Telfs – Klammsteig (climbing to the upper valley by stairs along the rocks, suspension bridge)
Oberperfuss – cable car (link)
(4)
18. Seefeld
Two thermal pools – in Seefeld and Leutasch.
Two cable cars (link) . Several little lakes
Gorge in Leutasch (link)
Scenic train route to Innsbruck. Also good access to the nearest Germany – Mittenwald, where there are a number of cable cars, gorges and from where you can walk to Ludwig's mountain palace in Elmau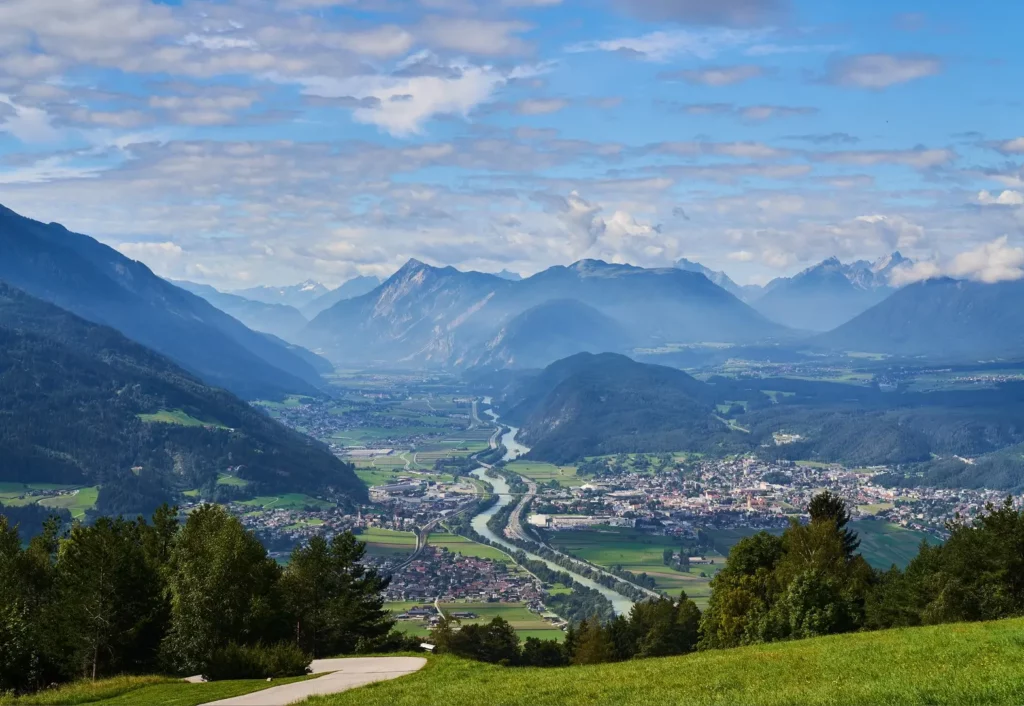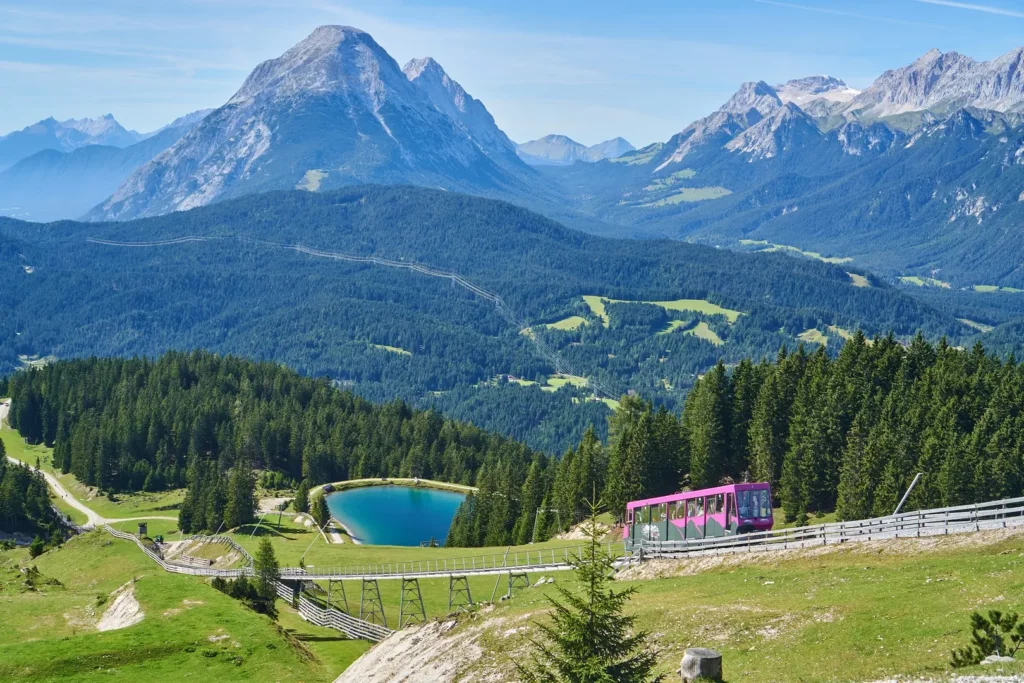 2
19. Innsbruck
Read more about Innsbruck: Part 1 Town,
Part 2 Ambras castle and cable car
Old city. Palace and Hofkirche Chapel to visit.
Tyrolean Folk Art Museum Tiroler Volkskunstmuseum (link),
History and art museum of the region Ferdinandeum (link) .
History museum Museum im Zeughaus (link) .
Bell museum Glockenmuseum Grassmayr (link) .
Funicular to the zoo (link) goes directly from the center. From the end station of the funicular goes cable car to Nordkette (link) .
Not in the center
Bergisel – Olympic springboard (tram 1): hunting museum, panoramic view of Tyrol, observation deck (link) . Gorge Sillschlucht below
Ambras palace (tram 6, link) and further up the mountain Patscherkofel (cable car, playground, alpine botanical garden, link). You can walk along the mountain on top to the next cable car Tulfes, from where the bus returns
On the other side of the Brenner Highway – Mutters – two cable cars (link)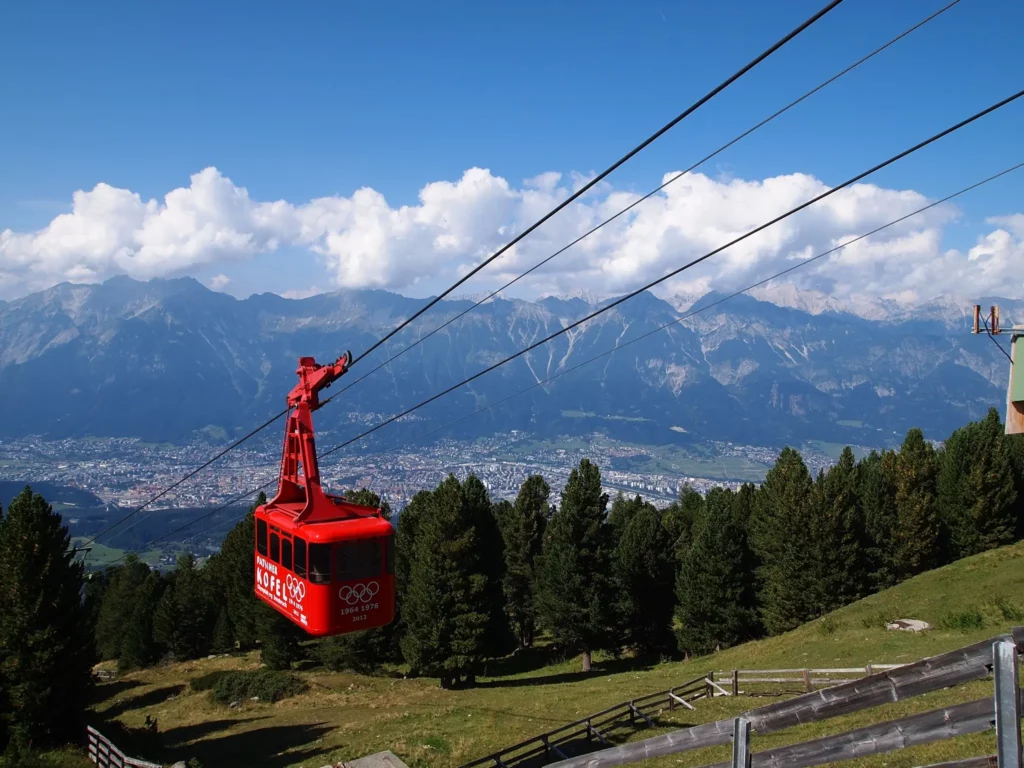 (3)
20. Stubaital
From Innsbruck, take the Stubaitalbahn scenic railway to Fulmpes
At the end of the valley there is a glacier with a cable car and an ice grotto (link). Below there is also Grawa Wasserfall (link)
Mieders – coaster, cable car (link)
Telfs – rose village, birds of prey, thermal pool
Fulmpes – rope park, cable car (link), smyth
Neustift – cable car (link)
Schönberg – panoramic view Panoramablick Gleins (an hour walk from the village)
(4)
21. Along the Brenner highway and nearest Italy
A region for hikers and mountain climbers, there are few attractions, with the exception of Vipiteno.
Gschnitz – village of mills and waterfall
Steinach – cable car
Italy:
Vipiteno/Sterzing – old town, cable car (link), rope park, castle (link), thermal pool
Nearby Gorge Stanghe (Gilfenklamm)
hunting museum in the palace Wolfsthurn
All posts about – #Tirol.