Last Updated on 12/10/2022
The most famous attraction of the Oetz Valley, with the exception of Ötzi, was popular long before he was discovered. It is Stuibenfall waterfall.
Stuibenfall – a popular name for waterfalls, from the word "to dust". But the waterfall at Umhausen is the most famous with this name and the highest in Tyrol. However, the height in the waterfalls is not the main thing, but by this one everything is fine also with the appearance.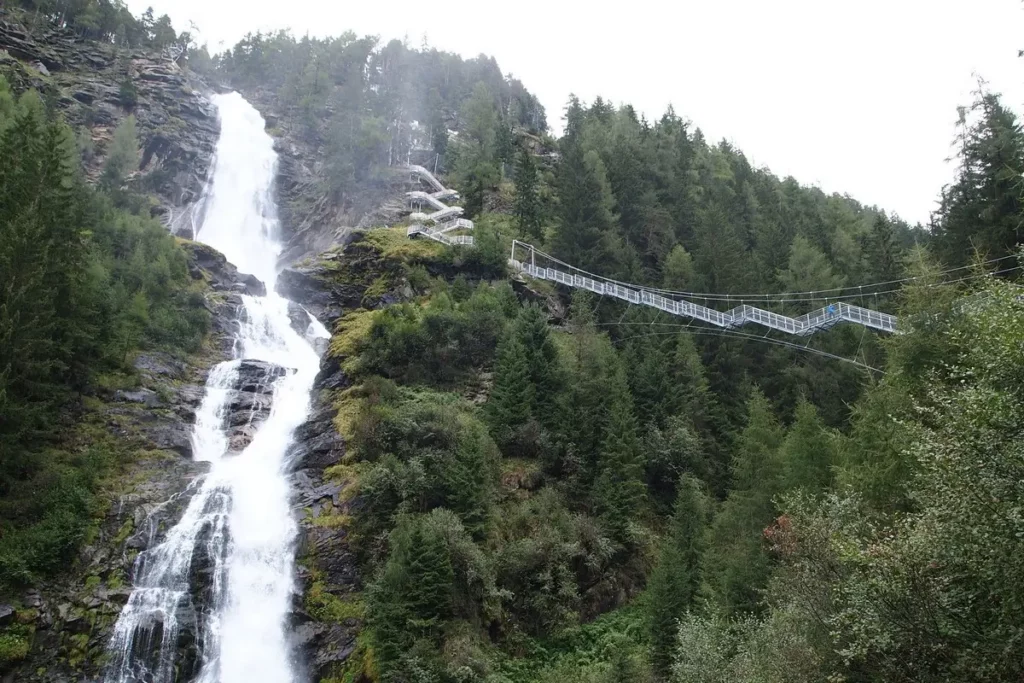 Oetz Valley. What to do
Innsbruck attractions. Old town, zoo, museums
Innsbruck. 2. Ambras Palace and mountains
From Bregenz to Innsbruck. What to visit
Zugspitze Arena. 2. Lakes
How to get to Stuibenfall waterfall in Umhausen
By public transport Stuibenfall waterfall can be reached from Innsbruck in an hour and a half:
train to Ötztal Bahnhof,
then bus 4194 to Umhausen
Stuibenfall waterfall
The observation trail at the waterfall was relative recently opened. After one person fell off the old path, it was decided to close it and make a new one: a metal suspension bridge and stairs to the very top. Surprisingly, it is completely free – they charge only for parking downstairs.
The height of the waterfall is 159 meters. This is 15 meters more than the highest of the steps of the Krimml waterfall.
Read about Krimml waterfalls
Visiting time is at least 2 hours.
Near the parking lot there are also:
the open-air museum "Ötzi village" (link), dedicated to the life of people who lived around 3300 BC,
a birds of prey show
and an outdoor swimming pool.
There is also a center for the production of wool and woolen carpets in Umhausen. (www.schafwolle.com).
It takes about half an hour to climb to the bottom of the waterfall. For some reason, there are a lot of fly agarics along the way.
We looked at the village of Ötzi from the side.
We finally reached the bottom of the waterfall. First observation deck.
A very popular via ferrata is laid along this rock. The groups go one after another. The beginning of the route is at the first observation deck. They climb up this rock to the waterfall.
Do you have any more questions? Use comments ⇓ or private communication form ⇨
Umhausen village below.
On the meadow on the mountain to the right is one of the oldest settlements in the valley – Farst.
These guys in blue will not go up to the observation deck to their support group in red, they will pass under it, and then over the very waterfall, next to the arch from under which water is beating.
On the approaches to the waterfall from above.
Upstairs hotel-restaurant. There is a parking lot next to it. Those who do not want to climb on their own two feet can drive there and go down to the waterfall. True, the road down still cannot be called completely flat and suitable for strollers.
Oetz Valley. What to do
Innsbruck attractions. Old town, zoo, museums
Innsbruck. 2. Ambras Palace and mountains
From Bregenz to Innsbruck. What to visit